Avenor acknowledges all Aboriginal and Torres Strait Islander peoples, the Traditional Custodians of the lands on which we work. We recognise their continuing connection to Country and pay our respects to Elders past, present and emerging.
Proceed to Home
04.11.19
Property leaders hit the surf in dementia fundraiser's 9th year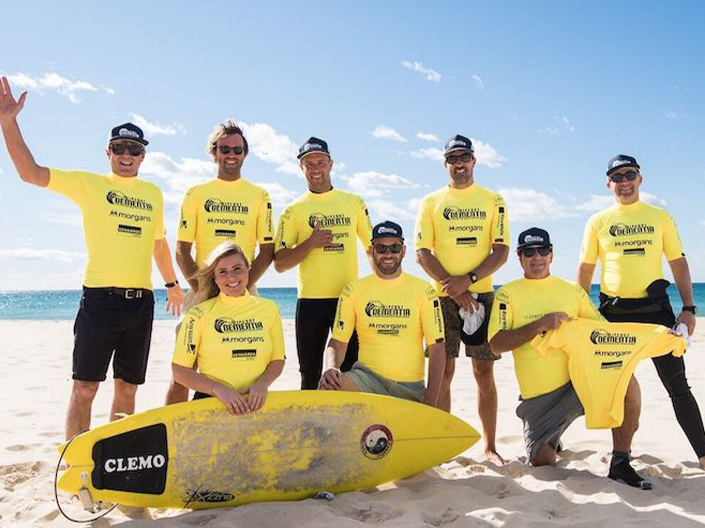 We're proud to once again be a part of the Wipeout Dementia campaign, which is riding a wave of momentum, after exceeding its fundraising target of $150,000 last month. The event raises much-needed funds for The Dementia Momentum initiative at the Centre for Healthy Brain Ageing (CHeBA) at UNSW, Sydney, and is now in its third year.

Since 2015, Wipeout Dementia has contributed an extraordinary $1 million to CHeBA in support of research for the treatment, prevention and cure of dementia, and other degenerative diseases of the brain.

As an avid surfer, Peter Clemesha rallied representatives from across the property industry in support of this worthy cause, including NewsCorp, m3property, GPT Group, Abacus Property Group, Ray White Commercial, Haigs Builder Brokers and Stamford Capital Australia, to form 'Clemo's Diehard Surfers' for the ultimate surf-off at Bondi Beach.

Peter's team was joined by 1978 World Surfing Champion Wayne 'Rabbit' Bartholomew, which put them at a great advantage when going head-to-head against competitors from Bates Smart, Colliers International, Charter Hall, AMP Australia and LendLease.

WipeOut Dementia's Founder, Richard Grellman AM, experienced the devastating effects of dementia first-hand, with his wife Suellen battling advanced early onset Alzheimer's for several years.

Dementia is estimated to cost Australia more than $15 billion annually, and by 2056 the total cost of dementia is predicted to increase to more than $36.8 billion in today's dollars. The research required to alter the course of the dementia forecasts relies on substantial funding, and an increase in this funding is imperative.

With over 52% of permanent residents in aged care facilities suffering from the disease, the need for research institutes such as CHeBA to expand their research beyond drug treatments and across the full spectrum of the disease is emerging. The best-known strategy for managing the modifiable risk factors associated with dementia is the incorporation of exercise into daily lifestyle, and the take-home message by Wipeout Dementia is that surfing can be more than just a pastime – it can save lives.

Visit the CHeBA website for more information on how you can participate in the next event in November.  We'd love to see you there to support this most worthy cause.
20.08.22
Privacy Policy
Avenor Group keeps its Privacy Policy under regular review and places any updates on this website. If you do not agree with this Policy, do not access or use our services or interact with any other aspect of Avenor Group.

This privacy policy applies to visitors and users of this website and our other websites, access or use of our services or interactions with any other aspect of Avenor Group (ABN 52 890 769 976).

This Policy is intended to help you understand:
What is the Role of Avenor Group?
Nullam vel sapien tempus, accumsan eros a, dictum mi. Interdum et malesuada fames ac ante ipsum primis in faucibus. Pellentesque metus leo, pharetra ut sapien quis, consequat blandit tortor. Ut felis erat, posuere sit amet venenatis ut, posuere id libero. Ut id ante non nibh elementum volutpat. Maecenas quis nibh lacus. Cras euismod, erat ac cursus blandit, lectus nibh porta nulla, in eleifend turpis ex euismod nunc.

Interdum et malesuada fames ac ante ipsum primis in faucibus. Fusce ullamcorper libero ut mollis tincidunt. Nam pulvinar auctor orci, id efficitur massa pretium eget. Donec lacus enim, eleifend vitae mauris in, sagittis dignissim risus. Aenean quis dignissim arcu. Phasellus massa nulla, convallis ac velit vitae, vulputate tempus massa. Nam scelerisque fringilla arcu, molestie fermentum mauris ultrices nec. Nam euismod nisl sapien, et laoreet purus fringilla a.
Privacy Legislative Framework
What is Personal Information or Personal Data?
What Information can we collect?
How does Avenor Group collect Personal Information?
How will your Personal Information be stored?
How long will your Personal Information be stored?
Processing and Use of Personal Information